This jewellery manufacturer with a store in Colaba is also a vegan café owner. How did it happen? Vicky Khatwani, owner of popular outlet in the heart of Bandra, reveals that turning vegan was the pivotal point in his life. Since then, there has been no looking back. He talks about how he established Earth Café that serves flavourful gourmet foods in a cozy atmosphere, which completes the ethical food experience.
How did you become vegan?
My journey toward becoming vegan began with the cows. From the beginning, I have always felt that a (cow) mother's milk is only meant for her baby, and not for anyone else's consumption. One day, I happened to see a couple of videos about the milk industry and the conditions were horrific. I decided to become vegan overnight. This was 5 years ago. Eventually, I eliminated leather and other animal products as well. Today, my shoes, bags wallets and belts, are all leather-free. Even as a Hindu, we worship the Nandi, the sacred vehicle of Lord Shiva. Then how can we torture and eat the animal? This does not make sense.
Your first line of specialization is as jewellery manufacturer in Zaveri Bazaar. What triggered the jump to setting up a vegan café?
I was in the US for 3 seasons. Out there I came across big vegan cafes across San Francisco, LA and New York selling ethical and tasty vegan foods, so I thought, "Why not in Mumbai as well?". By August 2018, I decided to dedicate my time to setup a vegan restaurant.
Earth Café has a unique logo and the colours of the logo have also been incorporated into the interiors of the café. Please elaborate.
Yes, our logo has a lot of Earth content in it. The brown circle represents Earth, and the leaves represent freshness of our plant-based foods. The logo has been designed by Zankhana Dalal, Graphics Designer & Director of Curio Spunk, and the decor has been overseen by Interior Designer, Ankur Khosla.
[foogallery id="414″]
What's the hot item selling at your restaurant these days?
We offer a range of global gourmet foods and beverages, our pizzas are the hot favourite amongst our patrons.                                        (Note: Earth Café offers four pizza options, Veg Margherita, Veggilicious, Grinch & Tofu Two-Ways.)
[foogallery id="1156″]
What is the USP of Earth Café?
Earth Café offers an experience of the freshness, which is ethical and clean. You can 'feel the food', its taste, its flavours–our food is 100% animal-product free.
Lots of non-vegetarians think that vegan food equated to raw food or salads, and is bland. But that is a myth. Earth Café is changing these perceptions, and this is our biggest achievement, as 70% of our customers are non-vegans.
Our second USP is that our food is healthy and packed with nutrition. We are collaborating with dieticians and nutritionists and are working on carefully curated menus.
 How do you plan to keep the menu exciting?
Every three months, we update the menu and introduce new items. For instance, we have now curated a keto plant-based menu, which makes us one of the very few restaurants in India to do so. Our holistic Keta Menu has been curated by us and certified by Dr Neomee Shah, Founder of Forever Wellness, Mumbai.
What were the stages of setting up a vegan café? What do you advise those aspiring to launch their own vegan food start-ups?
The crucial part of setting-up a café is planning. You need to be good with your planning, then it does not take time. We started in August for the next 2-3 months, we were heavily involved with just the planning. By 11 December we started our work on the setup and by 20 March 2019, we launched Earth Café.
And outlined below, are the foundation stages to setting-up a café/restaurant:
Venue (Location)
Menu
Logo & Interior Designs
Government Authority Licenses:

BMC
Health
Fire Department

Quality Checks
I personally looked into every aspect of the all the stages. All my licenses and paperwork are in place. And since you are all about being ethical, I advise others to go legal all the way. Also, I strongly recommend the support of a financial advisor as part of one's team, as such a project requires a lot of financial planning as well.
Finally, we are thorough with our quality checks. I personally verify the ingredients of all the spice labels we use myself, to make sure that our food is 100% animal-free.
What is the biggest challenge of setting-up a vegan café?
One of the biggest challenges is to keep a check of the money incomings and outgoings (of cash). One need to be very careful about where the money comes and goes. One has to keep track of finances and for that, I took help of a financial adviser.
Can you throw light on the people who supported your drive to start this vegan venture? Also about the team who played a role in shaping Earth Café.
My efforts would not have been successful without the blessings of my father Shri Kishore Khatwani and my Guru Gaur Gopal Das Prabhuji. And finally, I am supported by my wife, Pooja Khatwani, who has my back always.
I have established this café with my friend and partner in this venture, Deepu Bhadrani, He and his family have been a great support to us. Next is my team on the professional front. Teamwork is critical to a start-up's success. I got in touch with Jinal Rathod, Food Consultant and Chef Omi and there was an instant connection. They were both on the same page with me. We worked on the planning and menu two months before the launch of Earth Café. Also on board is a veteran manager, Sorab Frenchman, who comes with decades of hospitality experience. Altogether we are a team of 16 members including staff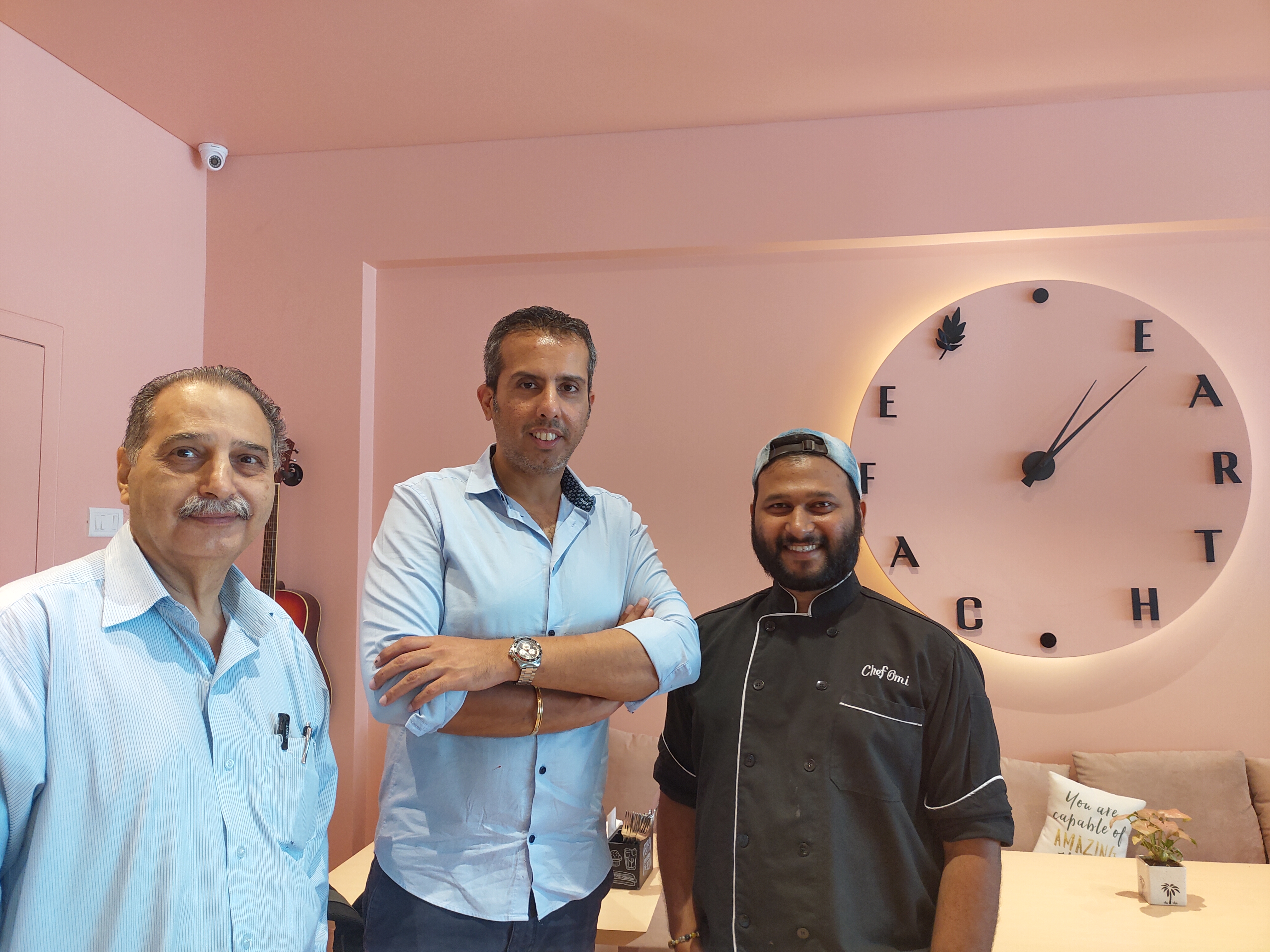 We all know service is key. How do you motivate your staff to keep a constant service ethic?
We have a staff briefing everyday and service is our top priority. We regularly talk to staff about important of being polite and attentive. Our staff is trained to listen to our patrons and take down suggestions and opinions of the food we serve. We also curate dishes as per our customer's preferences, if required.
Are you planning to create awareness about your restaurant being vegan to all who visit the café?
Not for now. India is still not very clued in about veganism as yet. We emphasize that we are a vegetarian restaurant, and we let our patrons experience ethical and clean foods for themselves, and then realize what we are all about.
What are the steps you have taken to keep your setup eco-friendly?
We are very judicious about the quantities & resources we use to reduce food wastage to a minimum. We encourage our customers to pack-up leftovers. Also, we are now plastic-free. We have switched to glass bottles and paper straws–small steps to cut back on our carbon footprint.
What is a typical work-day like for you as the founder of Earth Café?
The most important part of the routine is our veggies stocking. We source our veggies fresh, locally and regularly stock-up on spices as well. Our quality checks follow at all times.
A typical work-day for me runs like this:
10.30am: Check on the kitchen (veggies & ingredient Stocking) and accounts. Also staff coordination and preps for lunch
01.30-4.30pm: Lunch Orders
4.30-5.00pm: Clean-Up and table arrangements
05.00-7.00pm: Coffee & preps for dinner
07.30-11.30pm: Dinner Orders
How do you manage to continue to juggle between two businesses?
My manufacturing store, Ornamentz, based in Colaba, is already settled and all the processes are in place. So I only have to oversee and coordinate everything via WhatsApp, phone and laptop. I manage all that from Earth Café itself every morning.
Do share about how you stay on top with work-versus-life balance?
At the moment I'm immersed in this baby (Earth Café), so I return home late, post 11.30pm everyday. And I start off early morning from my residence in Colaba. On weekends my family, wife Pooja and son, Aaryan, join me at the café and I get more time to be with them.
What is on the agenda next for Earth café and share your plan for year 2020?
We are looking at "rectifying" our current menu. It's already good, but we are reviewing the items regularly and maintain our improving benchmarks. Once we do this, we plan to expand. We aim for a second café in Mumbai and another property outside Mumbai.
Chef Omi, Earth Café

The graduate from Hotel Management & Catering Technology from Rizvi (2010) started his career with TGIF, Parel. He worked with various established properties across Mumbai before he was associated with Bird Song, Bandra. A stop later he came on board the Earth Café late last year and went on to co-curate the menu.

"We have food for everyone. Earth Café offers global cuisines that have been curated with clean flavours to tickle the tongue and offer wholesome flavours. We offer a rare balance of taste and health as well."