Seminar Series 'Meeting The Awakened Souls' by World Vegan Vision to be held from 22 January 2021.
World Vegan Vision, a US-based organization has curated a four-day online seminar series titled, 'Meeting The Awakened Souls'. The discourse will enable all to engage with eminent speakers who will give inspiring talks about the transformative powers of ahimsa and compassion in everyday life. The event has been organized by H.K. Shah, Founder & Smt Malti Shah, Chairwoman, World Vegan Vision and will be held from 22-25 January 2020.
Each of the four days will feature thought leaders who will share their personal journeys about how they overcame obstacles on the path towards deeper spirituality. They are like awakened masters who can connect a person with keystone insights that can change one's perception dramatically and recalibrate oneself to better cope with the future.
Four-Day Programme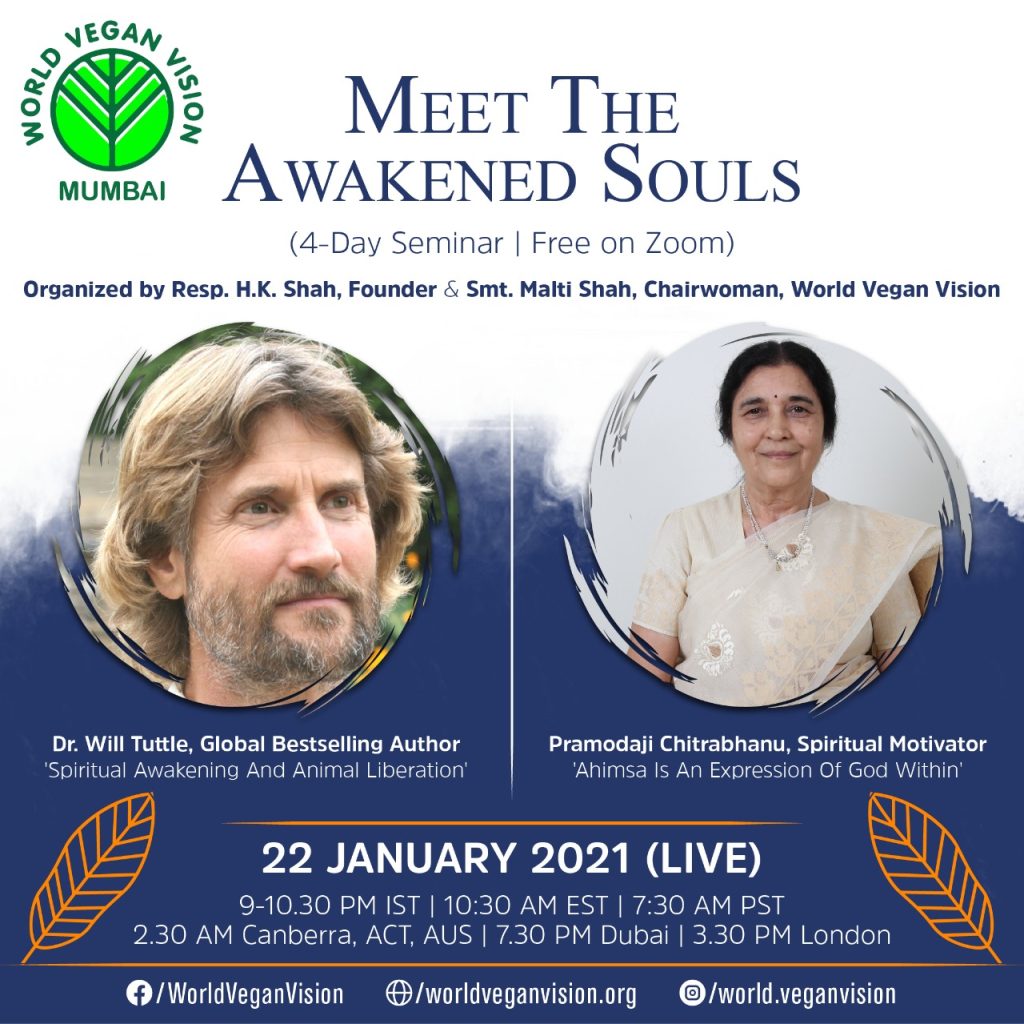 22 January 2021, Friday
• Pramodaji Chitrabhanu, Spiritual Motivator
Title: 'Ahimsa Is An Expression Of God Within'
• Dr Will Tuttle, Global Bestselling Author
Title: 'Spiritual Awakening And Animal Liberation'
23 January 2021, Saturday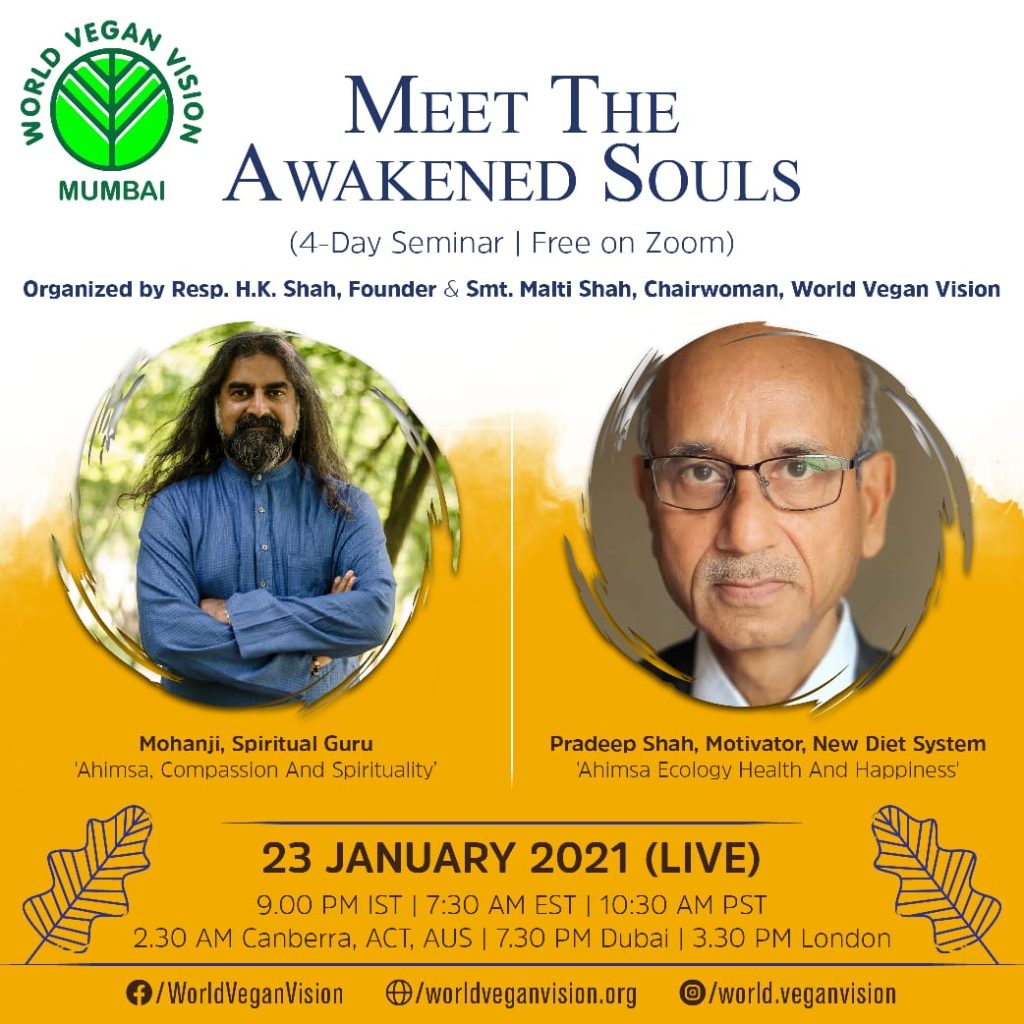 • Mohanji, Spiritual Guru (Recorded)
Title: Ahimsa, Compassion And Spirituality
• Pradeep Shah, Motivator, New Diet System
Title: 'Ahimsa Ecology Health And Happiness'
24 January 2021, Sunday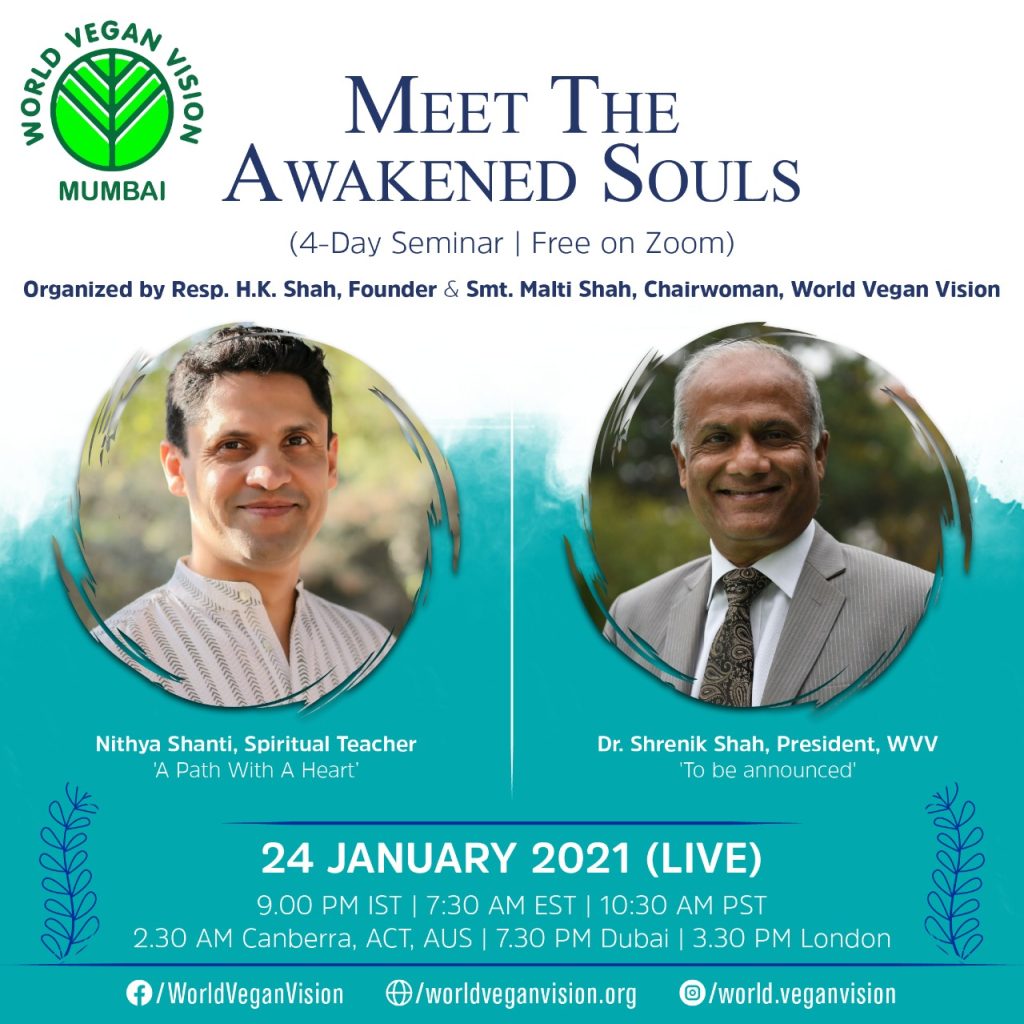 • Nithya Shanti, Spiritual Teacher (Recorded)
Title: 'A Path With A Heart'
• Dr. Shrenik Shah, President, WVV
Title: 'Veganism To Spiritual Liberation – My Journey'
25 January 2021, Monday
• Harshad Parekh, Vegan Advocate
'Spirituality to Happiness – Our 30 years Journey!'
• Anil Narang, Vegan Ambassador. Senior Fund Manager USA / India
'Moral Basis Of Veganism'
• Shankar Narayan, Founder, Satvik Vegan Society
Satvik Life, Vegan Diet
Highlights
One of the highlights of the session is that the talks will be moderated by WVV Mumbai Presidents, Mumbai – Dr Rupa Shah and Ruchika Chitrabhanu. Other moderators who will be present are Dr Rashmi Menon, Homeopath & Counsellor and Nandita Kapadia, Managing Editor, Compassion India magazine.
REGISTRATION DETAILS FOR FREE EVENT
ZOOM LINK
https://us02web.zoom.us/meeting/register/tZYkce-hqToiHdH_QYM9h5FngU38NbUNKvvf
Meeting ID: 829 6697 1875
Password: y5NU5Y
9.00 PM IST |10:30 AM EST | 7:30 AM PST |2.30 AM Canberra, ACT, AUS
7.30 PM Dubai | 3.30 PM London
World Vegan Vision
Fb: https://www.facebook.com/WorldVeganVision
Insta: @world.veganvision
Web: worldveganvision.org
#veganism #spiritualvegan #veganspeaker #ahimsa #mindfulness #spiritualawakening #spiritualgrowth #drwilltuttle #pramodachitrabhanu #nithyashanti #mohanji #shankarnarayan #harshadparekh #satvicvegan #nithyashanti #anilnarang #drshrenikshah #pradeepshah #rawdiet #reversedisease #compassion