Two-time Ironman triathlon title winner and vegan, Siddharth Shukla joins ethical ice-cream startup, White Cub to steer company ahead. We caught up with the runner in the midst of his busy schedule to throw light on his new role. 
How do you balance your practice sessions with career during Ironman 1 and 2?
Ironman training is all about discipline and training backed with data. Early morning hours and late evenings were my training times. Weekend were all about long brick work outs consisting of long distance swim, cycling and run. Of course, I had to take care of my nutrition no matter how busy was my schedule.
Did you face any career challenges after you became Ironman the second time?
No, in fact, my career flourished. Ironman changes your mindset and no other challenge seems difficult. It gave me more confidence and people started recognizing me. It helps in every aspect of your career when you are an endurance athlete. In fact, I have given health related guidance to many of my clients.
How did you consider associating with White Cub?
I felt a strong urge to work for an ethical vegan company. I wanted to use my marketing and sales skills, that I developed during my banking career, for the cause. White cub is an ethical vegan company and the owner Sonal is also ethical vegan so this was an icing on the cake for me. I applied for the position and I was fortunate enough to get selected as their Regional Head.
What is your role at White Cub?
I am working as Regional Head for Mumbai and Pune.
What is your Vision for White Cub in the coming days?
White Cub is doing well in Delhi, Mumbai and other regions. As a Regional Head my vision is to increase its visibility and make masses aware of the fact that ice creams can be enjoyed without harassing animals. I want to make White Cub available in each and every corner of the city.
We contacted Sonal, Founder, White Cub who made the following statement: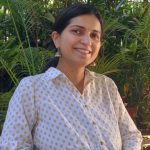 "WhiteCub's Vision has always been to make the regular markets more and more vegan friendly. For this, having committed vegans on board really helps the process. Siddharth's presence shall certainly accelerate the same. White Cub's vehicle in the Maharashtra region will run now in 5th gear, considering we have the super Runner Sid with us now!"