A lot of restaurants know by now that one of the most successful strategies to future-proof their growth during the pandemic times, is to cater to the increased demand for plant-based (vegan or vegetarian) dishes. But despite the rapidly rising demand, plant-based menus have never really, truly. been open to the mainstream urban enthusiasts as well as the masses across Mumbai. But all that is about to change.
The longer running vegan cafes and fast-food players in India have, of course, had vegan options on their menus for some time. But what has arguably never been fully accessible to the mainstream diners is a plant-based offering that delivers all the satisfaction of a well curated vegan menu that is a blend of global cuisine without losing the local zest. That is what bistro London Taxi has lined up to launch on 22 July 2021.
Launch Of Plant-Based Menu
Nestled strategically in a business hub like Lower Parel, London Taxi is known for its warm hospitality and delicious meals. This time they have partnered with Dr Rupa Shah, vegan medical doctor and founder of Compassion India magazine. Restaurateurs Dhaval Udeshi and Pawan Shahri, of Butterfly High fame, have tied up with Dr Shah to co-curate a tempting range of vegan dishes for a project called 'The Vegan Party'. The vegan doctor has worked with their inhouse Chef Rahul Desai for this project and they are very excited with the results. Dr Rupa Shah said, "I am very excited about the collaboration with London Taxi. Both, Pawan & Dhaval are clear in their vision to see everybody enjoying vegan dishes. And it was delightful to work with Chef Rahul Desai and develop the dishes. The Vegan Party Menu is likely to encourage plant-based choices into the mainstream–enabling eco-conscious consumers to cut down their meat intake while getting all the flavour satisfaction one can expect from a non-vegan dish."
Partner Pawan Shahri said, "In the past few years, we have seen a large number of people going plant-based across the world. Also, people have become very health conscious during the lockdown. Subsequently, we have observed an increase in the demand for vegan and plant-based foods everywhere. We also foresee and a bigger spike in the coming months. So we have developed a menu that is innovative, fun and healthy.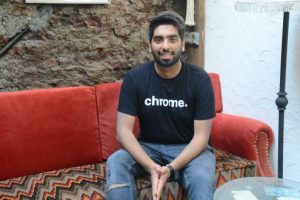 Dhaval Udeshi concurred, "During these pandemic times, all restaurateurs are facing a crisis and many have downed their shutters or redirected their strategies to morph into delivery kitchens. However, we have continued with London Taxi and even launched Silly restaurant in the suburbs in March 2021. Both, London Taxi and Silly are cost and revenue balanced projects. And our strategy is sound as the restaurants have witnessed a full house during peak hours and weekends. We are constantly looking to collaborate with talented entrepreneurs in this vertical that is mutually sustainable."
London Taxi has launched an 'Incubator' programme with an aim to provide employment, promote entrepreneurship and support small businesses within the F&B industry. Like Vegan Party, restaurateurs Dhaval Udeshi and Pawan Shahri have developed other programmes for home delivery like a South Indian menu called, 'Vanakkam' and a Parsi menu aptly titled, 'Bawa Nu Bhonu'. The team is inviting aspiring food entrepreneurs who want to establish their very own food brand. The London Taxi team will provide resources right from investing in the project to R&D, marketing, and inventory to help propel their culinary journey.
Making Plant-Based Foods Profitable
The LT team believe that chefs don't need to sacrifice anything to serve up meat-free dishes that tick all the taste, texture and flavour boxes for vegans and meat-eaters alike. They also believe that their meat alternatives can help businesses to overcome one of the key challenges associated with vegan and plant-based dishes in the future–pricing. Many restaurateurs struggle to reach their cost-per-head benchmarks for vegan dishes. With quality meat replacements, however, chefs can heighten the perceived value of a vegan dish in order to justify the price point.
The Cutting Edge
From the restaurant's perspective, they have big goals to achieve. The Vegan Party project is set to be the crowning glory of the entire menu. London Taxi's aim is to ensure that the menu matches up to the same heavenly flavour that precedes the reputation of plant-based foods. And with the launch of 'The Vegan Party', the team is looking forward to more collaborations and to launch more dishes. Presently, London Taxi serves breakfast, cocktails and an elaborate range of dishes from its daily menu. Select dishes from the incubation programmes will also be available in the breakfast menu. Udeshi added, 'The Vegan Party will soon get into retail and FMCG in the coming months."
The Vegan Party Highlights
Here is just a teaser of some of the dishes that patrons will enjoy. The menu is elaborate and also includes salads and desserts. The finer points of the menu are still being discussed even as you are reading the article.
Pizzas
House Spiced Margherita
Butter Chicken Pizza
Burgers
Signature Jackfruit Patty Burger
Korean Chilli C*****n
 Baos
 Appetizers
Peri Peri Spiked C*****n Nuggets
 Mains
Butter C*****n with Kulcha
Jackfruit Steak with Marinara Vegetables
M****n Keema with Smoked Tandoori Pav
Note; The Vegan Party Menu final version is expected to be released on 22 July 2021