The virtual event to be held from 24-27 July 2021, will feature the likes of Smt. Maneka Gandhi, Moby and Smt. Sowmya Reddy amongst over 55 global domain experts.
In a world where public health has become the top priority, emphasizing a safer and more secure food system has garnered importance. The idea of embracing a
vegan lifestyle could seem like a utopian concept but is a reality now embraced by many people across India. Not only have we seen a 43% growth in the dollar sales
for plant-based foods, but the world and industry leaders have also been forced to come to terms with the dire need for clean and sustainable living.
Organised by Mohanji Foundation and Vegan First, Vegan India Conference is the largest platform in India to enable a dynamic ecosystem that promotes innovation,
change, information sharing, and the discovery of like-minded individuals.
 The second edition of the Vegan India Conference is taking place online from 24th July to 27th July 2021.
The online conference encourages you to rethink food, fashion, and technology through a plant-based lens. It highlights how veganism has always been rooted in Indian culture.
"Bharat has a culture where we respect every atom, every being. We believed in co-existence. This culture should spread everywhere just for the sake of sustained
existence. The same energy runs through all beings, and we must accept it, appreciate it, and respect it." says Mohanji, humanitarian and philanthropist.
Mohanji is also the founder of the Mohanji Foundation which has activities across 5 continents and registered charitable offices in 16 countries. "It is my deepest wish to see veganism in India grow. It is very close to our Indian roots and we simply have to revive our value of ahimsa and compassion." says Palak Mehta, director of Vegan India Conference. Palak is also the founder of Vegan First Magazine – India's first plant-based digital publication started in 2016, and also a member of the task force for vegan foods by the FSSAI.
A powerhouse lineup of global leaders that represent the best and brightest of the industry will speak on themes important to India and global markets.
Some of the speakers are:
Mohanji – Keynote Speaker, Humanitarian & Global Thought Leader
Smt. Maneka Gandhi – Vegan Member of Parliament, Former Union Cabinet
Minister for Women & Child Development, Founder of People for Animals
Smt. Sowmya Reddy – Vegan MLA, who also started one of the first vegan restaurants in India
Moby – Internationally-acclaimed vegan musician and animal rights activist
Dotsie Bausch – The oldest Olympic athlete in cycling to compete, Olympic
Silver Medalist, and a vocal advocate for plant-based living
Alex Lockwood – BAFTA-winning filmmaker, Director of the upcoming film The End of Medicine which speaks about the relationship between
pandemics, health and animal agriculture
Genesis Butler – 14-year-old animal rights activist and the receiver of Animal Hero Kids' Sir Paul McCartney Young Veg Advocate award
Keegan Kuhn – Co-director, Cowspiracy, What The Health!
Kuntal Joisher – World's first vegan to summit Mt. Everest – twice
Dr. Sailesh Rao – Executive Producer, Cowspiracy & What The Health!
Ryan Bethencourt – Founder of plant-based pet food company Wild Earth from Shark Tank Fame
Anushka Manchanda – Indian vegan musician & animal rights activist
Stephanie Downs – One of the leading industry voices in the field of sustainable alternative material
Georges Hayek – Owner of world's first vegan hospital
Dr Rupa Shah – Vegan medical doctor and founder of Compassion India magazine & Global Vegan Business Expo 2020
Shankar Narayan – A vegan for 20+ years, and the founder of India's first vegan society registered in 2004
The first edition took place in Delhi in 2019 and was a landmark event in the history of Indian Veganism with the participation of over 18 countries. This year too, VIC aims
to put Indian veganism on the world map with a well-rounded experience for vegans and non-vegans alike.
 Who Will Attend?
The conference will be a packed four-day event bringing together entrepreneurs, experts, humanitarians, scientists, researchers, doctors, nutritionists, food
technologists, alternative protein enthusiasts, and anyone interested in a plant-based lifestyle.
DAY 1: Dive deep into plant-based nutrition and how it can help in treating
diabetes, controlling hormone disorder, weight loss, and addressing heart problems.
DAY 2: Find out the future of alternative proteins, consumer trends, the potential for lab-grown meats and food forests in India.
DAY 3: What will we wear in 2051? Find out the future of Fashion and the material innovation landscape
DAY 4: Learn a variety of recipes from a beginners guide to veganism to mastering
the art of cooking Indian vegan mithais, curds, and even tempeh.
 Full agenda here: www.veganindiaconference.com/agenda
 What else to look forward to?
Attend sessions by 55+ globally renowned speakers
Enter the virtual reception
Visit 40+ virtual exhibitor booths
Access the lounge with 100+ video networking rooms
Access on-demand recording post-event
Access resources and worksheets
Opportunity to build life-long partnerships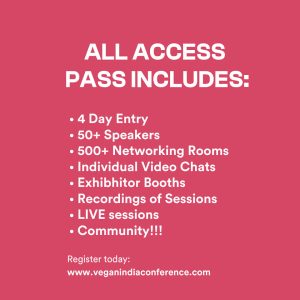 Tickets and more information about VIC 2021 are available at
www.veganindiaconference.com.
 About the Organisers:
This event is organised by Vegan First and Mohanji Foundation. Mohanji Foundation was founded by Mohanji (www.mohanji.org) – Indian spiritual leader who is the inspiration behind the Vegan India Conference. He is a practicing vegan and promotes Ahimsa towards all beings. Mohanji Foundation is registered in 15 countries with activities in over 80 countries around the world. Mohanji Foundation promotes purity, compassion, veganism, and kindness. Mohanji International Foundation is headquartered in Switzerland.