Kuragayala Sarada, a vegan has scaled Mt Kilimanjaro—the tallest mountain in the African continent and the highest free-standing mountain in the world.  Online news reports state that she could also be the first Indian vegan woman to make it to the top of the summit. In an image on her social media account, she proudly points to a vegan message written on her palm, 'BE VEGAN".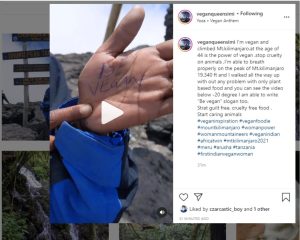 The city-based journalist and her team reached 19,340 oft on 10 September. Hailing from a town in Guntur climbed the summit on a plant-based diet. "The whole trek was an exciting experience. I got to learn a great deal about the culture and people here. This trek wouldn't have been successful without everyone who helped me back home and here," she said.
Mount Kilimanjaro is part of the Seven Summits of the world. The Seven Summits are the highest mountains on each of the seven continents of Earth: Mt. Everest (Asia), Mt Aconcagua (South America), Mt Denali (North America), Mt Kilimanjaro (Africa), Mt Elbrus (Europe and Russia), the Vinson Massif (Antarctica) and the Carstensz Pyramid (Indonesia).
On her social media post, she said, "I'm vegan and climbed Mt. Kilimanjaro. At the age of 44 is the power of vegan–stop cruelty on animals, I'm able to breathe properly on the peak of Mt. Kilimanjaro 19,340ft and I walked all the way up without any problems with only plant-based food and you can see the video below -20 degree I am able to write "Be vegan" slogan too. Stay guilt-free, cruelty-free food. Start caring animals".