Nike- Billie Eilish Collab Is Launching Vegan Air Jordans; Delhi-Based Leather Brand 'Empyrean Luxury' Goes Vegan
Vegan musical artist, Billie Eilish and Nike are partnering to create vegan Air Jordan sneakers made from sustainable materials. Eilish's new vegan shoes will feature her signature on the insoles and be available in two styles: Air Jordan 15 in a neutral taupe hue and Air Jordan 1KO style in a "Ghost Green" colorway—reminiscent of Eilish's slime green hair color prior to her new platinum look.
The tongue of the shoe will feature her signature "Blohsh" logo, which Eilish drew when she was 14 years old.The Billie Eilish x Air Jordan styles will be available through Eilish's website on September 27 before launching in the Nike SNKRS app on September 30.
The Air Jordans will be made without animal products to align with her vegan lifestyle. "I've always loved Jordan and it was such a crazy, surreal, exciting, overwhelming experience to create these. Like a big part of that was the sustainability aspect," Eilish said. "We worked really hard on making them all 100-percent vegan, no leather, no animal anything. They're over 20-percent recycled materials."
Outside of its collaboration with Eilish, Nike has recently been exploring plant-based alternatives to animal leather. This summer, Nike launched its Happy Pineapple collection, which includes reimagined versions of iconic styles made with Piñatex—a vegan leather made from pineapple leaves—instead of animal hides. The pastel-hued collection comprised Air Max 90, Air Max 95, Air Zoom Type, and Air Force 1 styles accented with swooshes and logos made from the innovative vegan leather.
Former Leather Brand 'Empyrean Luxury' Goes Vegan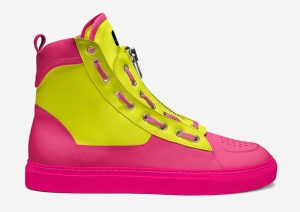 Empyrean Luxury, a Delhi NCR–based designer footwear brand has confirmed that it has stopped the use of leather across its range of products. The company has offered a 10% discount to consumers who use the purchase code "GOVEGAN" for a limited time. Empyrean Luxury is a high-end fashion house that ships globally and is known for its Italian aesthetic and the unsurpassed quality of its footwear.
According to Empyrean Luxury website, Saksham Chaudhary, owner of Empyrean Luxury stated, "We pledge not to harm or kill animals anywhere in the world. We will not be part of any activity that promoted cruelty against animals in any manner."
According to PeTa, the company was moved by video documentation on PETA India's YouTube page showing that cows and buffaloes used for leather are crammed into slaughterhouse-bound vehicles so tightly that many sustain broken bones or die of suffocation. At slaughterhouses, workers slit their throats right in front of other terrified animals.
Cruelty-free leather substitutes can be made from everything from mushrooms, cork to coconuts and pineapples helps combat leather-industry hazards such as greenhouse-gas emissions, deforestation to rear animals, and toxic waste that pollutes waterways and harms tannery workers.
Empyrean Luxury is among other companies and designers like House of Anita Dongre, Welspun India, Purvi Doshi, Paperdom, and PAIO, that use the "PETA-Approved Vegan" logo to help consumers identify and choose cruelty-free and vegan footwear and other products.