A fully vegan bazaar celebrating and supporting small businesses has been happening every Sunday this month and February 27th is the last one in Ghatkopar.
December 26th saw the first edition of the Mumbai Vegan Food Bazaar at Ghatkopar West and the response was outstanding. Over 20 brands, many of them small businesses with vegan products, came together and put up stalls at Shivaji Hall in Ghatkopar West. 700 people showed up to show their support and purchase from these brands.

On offer were products like protein cookies and snack mixes by Plant Power, vegan alternatives to dairy by 1Ness, vegan cheese spreads by Katharos, energy bars by Kamala's Guilt Free Goodies, delicious desserts by Citta Comida and Sister Story, delectable raw vegan food by Glee. There was also organic fruits, vegetables and groceries, hydroponic salad greens and so much more!


People thoroughly enjoyed the ambiance, the goodies on offer and also the fact that Mumbai has not seen so many vegan brands come together in a while.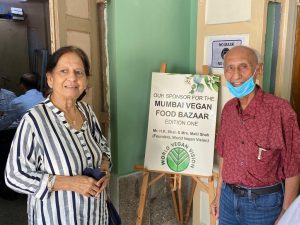 After the success of the December bazaar, the market has continued every Sunday in February. Over the four Sundays, the bazaar will see new businesses coming in every week and selling everything from eco-conscious and sustainable lifestyle products to handmade skincare apart from the delicious options in vegan snacks, live foods and packaged products. February also saw the additions of morning booster events which ranged from yoga to special talks with health and fitness enthusiasts and vegan food demos. 
This Sunday, 27th February will be the last Sunday for the bazaar in Ghatkopar. The organising team has many exciting plans for the coming months for the city of Mumbai. For images and videos from the bazaar, visit https://www.instagram.com/compassion_magazine/

The Mumbai Vegan Food Bazaar has been organised by Compassion Magazine and The Earthen One and is sponsored by World Vegan Vision.
Join the bazaar on the 27th of February at:
Shivaji Hall, Cama Lane,Ghatkopar West, Mumbai
From 10am to 3pm