Joining 14 other states in the proclamation, New York's Mayor, Eric Adams, has signed off on an official document to celebrate 20th March as MeatOut Day. New York joins states like Texas, Ohio, Colorado and Cincinnati who have already signed this into effect.
THE CAMPAIGN
The MeatOut Campaign was started in 1985 by the Farm Animal Rights Movement to highlight the need to honour animal rights and inspire people to eat plant-based foods.
What started off as an effort to protest cruelty to animals, soon became about coaxing people to eat more plants for their own health. Diets that are rich in fibre, vitamins and minerals have been consistently shown to better outcomes for people with lifestyle diseases that plague the world in numerous studies. This has also come to the surface more than ever in the pandemic when people realised that plant-foods help in promoting immunity.
Another aspect that has been highlighted along with this campaign is that plant-based foods are kinder on the environment. Production of animal foods causes close to 1/3rd of the greenhouse gases according to reports by the United Nations.
The MeatOut Campaign is the world's largest grassroots campaign that is educating people about the benefits of plant-based diets.
MEATOUT IN NEW YORK
To celebrate this day and focus on healthier foods, there will be celebrations and events planned throughout the city by the government along with a special event at a vegan restaurant P.S. Kitchen.
New York Mayor Eric Adams is a vegan himself who has experienced first-hand transformative abilities of switching to a plant-based diet after being diagnosed with type 2 diabetes and a subsequent vision loss in one eye. He even wrote a best-selling book chronicling his journey to health.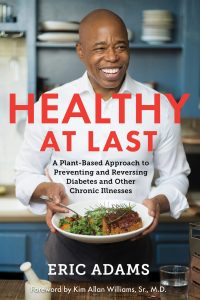 In February 2022, New York announced that all public schools will have 'Vegan Fridays' where the meals served will be mostly vegan in a phased shift towards a plant-based diet. Eric Adams also set forth a motion to offer plant-based eating clinics to all five boroughs of New York City after a successful pilot program called The Plant-Based Lifestyle Medicine Program which was started in Bellevue in 2019.
New York is already one of the most vegan-friendly cities in the world and with a push from the mayor, the city will continue to see more efforts being put to educate people about the dangers of consuming a diet heavy in animal products.