In a first for anyone wanting an intensive training to be a vegan chef, The Vegan School, a plant-based culinary school has been established in Goa.
As veganism grows, there is a growing demand for chefs and culinary enthusiasts to be up to date with all aspects of plant-based cooking. Several restaurants are already offering vegan-friendly menus and there are many fully vegan restaurants too.
The Vegan School in Goa has been spearheaded by Ashish Santhalia and Nisha Garg. Ashish brings over 5 years of experience in the field of education to the school while Nisha is a certified plant-based chef with over ten years of in-kitchen experience. Both are deeply passionate about healthy plant-based food.
Ashish says "80-90% courses are not even vegetarian friendly in India. So we thought why not just keep it vegan since I follow a vegan lifestyle myself."
The Vegan School's goal is to empower the next generation of culinary artists with skills and confidence to succeed with a career in the field of plant-based food and nutrition.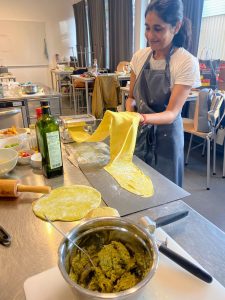 They aim to do this with their 11-week residential course which covers an extensive syllabus that will cover the culinary school basics like knife skills to everything plant-based including gluten-free, raw food and oil-free techniques. The syllabus also includes sections on culinary wellness that will help the students cater to specific meal plans according to any lifestyle-related diseases.
At the end of the course, the students will prepare a sit-down dinner for selected guests which is the norm with most cooking courses. The students will have the opportunity to intern in any vegan or vegetarian restaurant around the world. The course is well rounded to be able to offer the opportunity to the students to work in any restaurant kitchen or even open one of their own.
On the reasoning behind choosing Goa as the location for the school, Ashish says, " Goa has a sizeable vegan community and due to the number of vegan restaurants here, raw materials are easily available. Goa also is a great base that anyone from India or abroad wouldn't hesitate to come and live at for those three months of the course."
The students will have the opportunity to attend yoga and meditation classes in the morning. The classes will run from Monday to Friday and start with theory on nutrition and health and every day there will be a fixed topic for discussion. Post the lunch break, the chef will demonstrate the day's lesson and the course participants will have to then prepare the same.
The first intake for the course will be in September 2022.
"We want to focus on really great flavourful food and that it is really possible to make delicious, wholesome vegan food just by using simple, clean ingredients," adds Ashish.
To know more check the website here.