With each passing day, veganism keeps growing and becoming more common. Now it has even reached the theatres of PVR. PVR announced Vegan Menu which will serve food like meatless biryani, meatless burgers, nuggets, keema pau and hotdogs. These are a popular food among food lovers.
PVR did confirm that even all the sauces are also vegan.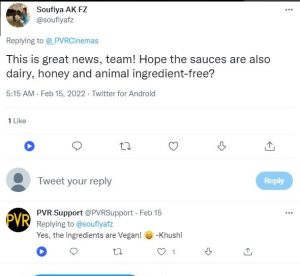 The menu is available in selected cinemas in Delhi, Gurgaon, Mumbai and Bangalore. T&C Apply.