Mumbai take note -the Bombay Vegan Party is back with a bang!
After a blockbuster of a party in November 2021, this time, the Bombay Vegan Party is going to be at The Green Affair on the 18th of June, 2022.
The idea behind the Bombay Vegan Party is to bring together vegans and the vegan curious to celebrate compassion and kindness with delicious food and lots of fun.
A RECAP
The last edition of the Bombay Vegan Party saw more than 170 people attend a lunch and a dinner event at London Taxi in Lower Parel.
There was an array of vegan dishes on the menu and the party saw talks by inspirational vegans, games, dance and exciting vegan goodies to take home.
"Vegan parties are about celebrating our life with all sentient beings on this planet with compassion in all aspects. Food is major part of this living. When we eat together, we bond well. So, I thought of starting Bombay Vegan Party to bring together all vegans on one platform," said Dr Rupa Shah, co-founder of Compassion Magazine and co-founder of the Bombay Vegan Party.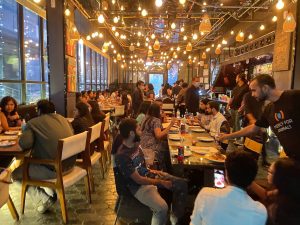 IT'S PARTY TIME AGAIN
This time also, the Bombay Vegan Party promises excellent food and an exceptional time for anyone attending.
The party will be a great place to meet more vegans from the city and around India and will offer a chance to network with like-minded people.
It will also be a place to inspire and get inspired.
"The idea is to have a good time with good company, food and music. The place has an in-house DJ who will make sure that the music will keep the crowd on the dance floor. There will also be a goodie bag with some awesome vegan brands for everyone," added Ruchika Chitrabhanu, founder The Earthen One, co-founder of  the Bombay Vegan Party.
WHAT'S ON OFFER
The Green Affair will be hosting the Bombay Vegan Party this time around.
The Green Affair is India's first fully vegan cocktail bar and café at Breach Candy.
Spread over two floors the restaurant includes a rooftop area with stunning views of the Mumbai skyline.
The chef and the Bombay Vegan Party team have curated a scrumptious menu with over 10 items, including 3 mocktails, 4 starters, 2 mains and 2 desserts.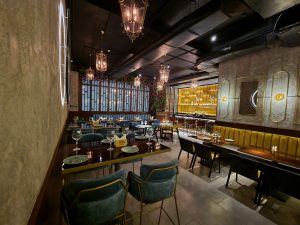 JOIN THE BOMBAY VEGAN PARTY
18th June 2022, Saturday
The Green Affair, Breach Candy
7 pm to 1 am
To register, click here