The house of TATA unveiled 'Vegan Visions' a range of exquisite sarees made with vegan silk in collaboration with TENCEL™ LUXE under their ethnic wear brand- Taneira.
The eloquent vegan silk sarees are light to drape and resemble the lightness of silk. Available in over 35 styles, Taneira's Vegan Visions offers a complete collection of sarees that combine everyday luxury to festive wear.
The vegan silk sarees are woven with a recently launched plant-based filament yarn that promises a long and robust fabric. This combination of technology and nature promises a textile that makes for a comfortable drape.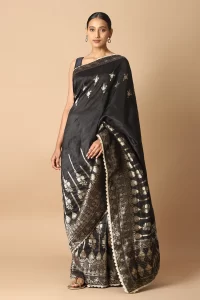 Taneria's Vegan Visions range starts at Rs.4999 and goes up to Rs. 7999 in a charming blend of hues and designs that make it perfect for work or celebratory occasions.
The Vegan Visions collection is available on the Taneira website here.